Frequently Asked Wedding Car Questions
There is a lot to think about when you plan a wedding, and transport is more than just another thing on the list. When hiring wedding cars, one crucial factor you should consider is the size of your bridal party; you'll need at least one car for the bride and her father to arrive at the ceremony.
If you're on a budget, the best option would be to hire taxis for the rest of the wedding party. In this case, you may need up to three cars depending on whether the groom needs a vehicle and the size of the bridal party.
After the wedding ceremony, the bride and groom will need one car to transport them to the reception venue. You will also need to know how the bridal party, groomsmen and parents will arrive at the venue.
With 25 years experience in helping to deliver blushing brides on their wedding day, Clementine Vintage Cars have compiled a brief list of frequently asked questions and their answer below. If your question is not listed, or if you would like more information regarding our service, please simply get in touch with the details to the right and we will be more than happy to discuss your requirements with you.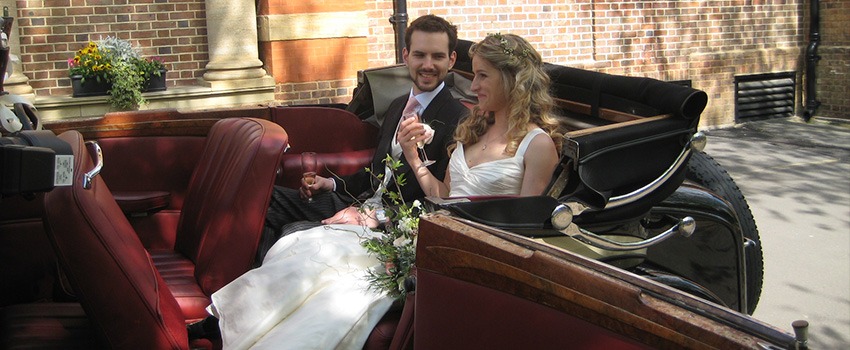 Who travels with who?
Traditionally, the bride and her father travel in one car, with the bridesmaids and the bride's mother travelling in another car together. Another thing you may need to do is arrange a vehicle for the groom and his party to get them to the ceremony. However, there are no specific rules, meaning you should opt for what works well for your big day!
How long will we be allowed to use the car?
Our cars are available for as long as you want during the wedding day inclusive in one fixed price. This also includes any decorations, the service of a professional chauffeur and any photography throughout the day.
If our wedding ceremony and reception are in the same venue, should we hire a car?
If the ceremony and reception are in the same place, you can arrange for a special "Champagne Run". It provides a chance for a newly married couple to slip away after the ceremony and spend some time together before they rejoin their wedding party.
The wedding car is also the perfect backdrop to take beautiful wedding photos. For instance, our 1933 Roesch Talbot will stand out among your wedding photos, even if you'll not use them to drive between the ceremony and reception.
Do all wedding cars come with a chauffeur?
All of our wedding car hire is inclusive of a fully licensed and insured chauffeur. Our experienced chauffeur is immaculately presented and will have studied the route to your wedding destination. We aim to ensure that you get to the ceremony on time and in style.
Is it risky to hire a vintage wedding car?
A reputable company ensures all their vehicles are properly serviced and maintained, especially older vehicles with their irreplaceable charm. Even if they offer clients brand new cars, there is a small chance that a car can break down, but this risk is minimal. Make sure you read reviews from past couples to understand the full experience offered by a wedding car hire company.